Respighi: Pines Of Rome / Fountains of Rome / Metamorphoseon Modi XII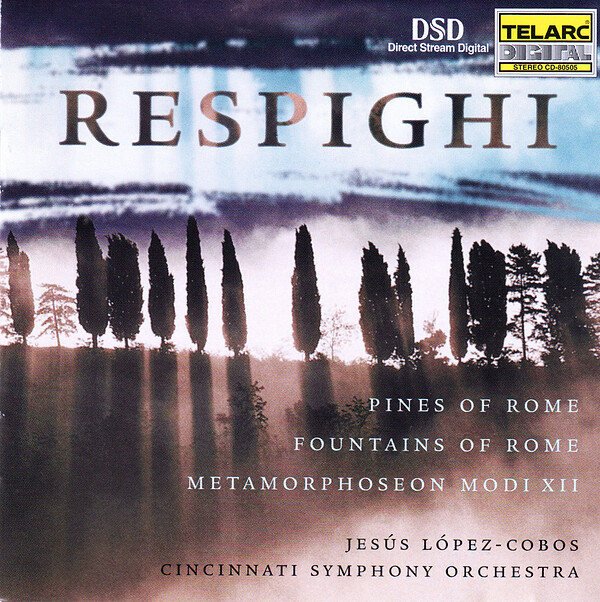 Maestro López-Cobos, appointed eleventh music director of the Cincinnati Symphony Orchestra in 1986, is nearing the end of his tenure with that musical institution. Now in his fourteenth season with the CSO, López-Cobos has led the orchestra into a new era of international acclaim, both for their live performances on tour and in their over twenty recordings on the Telarc label. In January 2000, he led the orchestra on a tour of the East Coast, which included an appearance at Carnegie Hall.
López-Cobos and the CSO have made two other highly praised recordings of the music of Respighi for Telarc:Church Windows (along with Brazilian Impressions andRoman Festivals, CD-80356); and a disc of Transcriptions for Orchestra (CD-80396). Both discs were commended for their impressive power of sound and interpretation, as well as clarity of detail.
The current recording features the composer's two most popular and oft-performed tone poems: Pines of Rome andFountains of Rome, as well as the rarely heard, darkly-shadowed set of theme and twelve variations for orchestra,Metamorphoseon Modi XII.
Metamophoseon was commissioned by the Boston Symphony Orchestra in 1929, in honor of the ensemble's fiftieth anniversary. A set of twelve orchestral variations built upon a Gregorian theme, it contains elements of Russian orchestral color and of Richard Strauss's harmonic techniques. It was premiered in 1930, with Serge Koussevitsky leading the Boston Symphony
Telarc 80505
28 April 2000