Rachmaninoff: Symphony No. 2 And Vocalise, Vocalise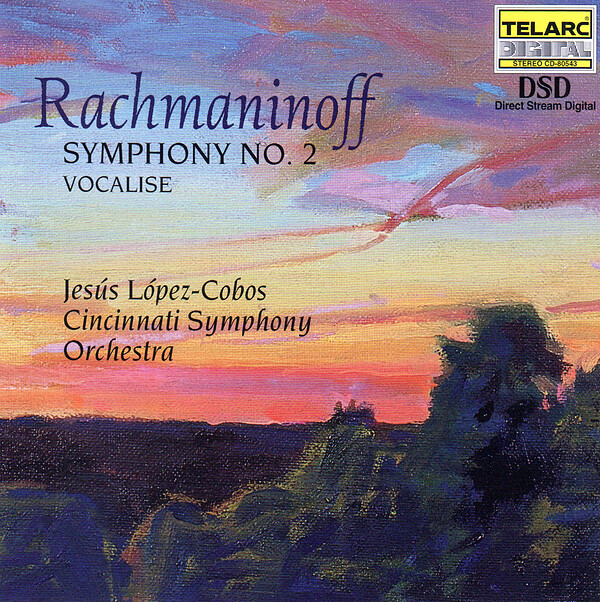 In his final season as Music Director of the Cincinnati Symphony, Maestro Lopez-Cobos led the CSO on a major international tour in January and February, giving concerts in his native Spain, Germany and Poland. This was the orchestra's first tour of Europe since 1995. The tour was launched by a performance on January 22 at New York's Carnegie Hall.
The orchestra's recent Telarc recording of Remo Mazzetti, Jr.'s revised performing edition of the Mahler Symphony No. 10 (CD-80565) was named by Chicago Tribune reviewer John von Rhein as his top favorite classical recording of the year 2000.
Here Lopez-Cobos and the CSO tap into romance, with a new recording of the Rachmaninoff's lush Symphony No. 2and the lush Vocalise (Orchestral Version).
Symphony No. 2 has established a reputation as the most popular of Rachmaninoff's orchestral works, and has a main theme, or "motto" theme, that recurs throughout the four movements of the work in various guises. Another very romantic theme in the slow movement was made into a popular song, "Never Gonna Fall in Love Again." Here it is given an opulent rendition by the glowing strings of the CSO. The composer premiered the Symphony in January 1908.
The poignant, tender Vocalise was taken from a group of fourteen songs of 1912, dedicated to three Russian singers including the great bass, Chaliapin. Vocalise, a haunting wordless melody set to piano accompaniment, was the final song of the set, and was written for the coloratura soprano Antonina Neshdanova, a singer with the Moscow Grand Opera. The lyrical piece was always popular with audiences, and in 1916, at the urging of conductor Serge Koussevitsky, Rachmaninoff transcribed it for orchestra.
Telarc 80543
27 March 2001