Holst - The Planets / Britten: Young Person's Guide To The Orchestra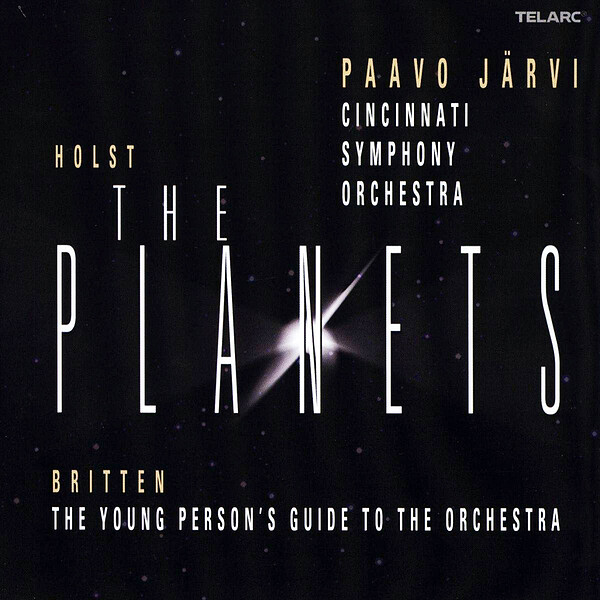 Paavo Jarvi and The Cincinnati Symphony Orchestra Rock the Galaxy in Latest CD Release Featuring The Planets By Holst

Telarc/Järvi recording also features The Young People's Guide to the Orchestra

The 16th Cincinnati Symphony Orchestra Telarc recording with Music Director Paavo Järvi will be released on September 22, 2009. This latest disc includes Gustav Holst's wildly popular suite for orchestra, The Planets and The Young Person's Guide to the Orchestra by Benjamin Britten.

"The Planets and The Young Person's Guide to the Orchestra are probably two of the best known orchestral works to come out of England in the twentieth century," said Mr. Järvi. "I have always been thrilled by the brilliant orchestra in both works and the powerful sound-images each uses to vividly bring to light the mysteries of outer space and the intricacies of the orchestra."

For The Planets, Holst composed musical equivalents for each of the solar system's known planets in 1914 other than Earth. CSO performances of The Planets in November led a reviewer from the Cincinnati Enquirer to write, "Drop everything and go... One can hardly describe the fierce power of the brass, two sets of timpani pounding relentlessly and bows cracking across their strings as Paavo Järvi and the Cincinnati Symphony Orchestra reached heavenward... The floors of Music Hall vibrated in this high-voltage performance of The Planets...."

"It is such a famous piece, but this is the first time I've conducted it with the Cincinnati Symphony," said Mr. Järvi. "This music has real staying power... Holst paints a 'sound picture' of the planets - it's both intriguing and charming."

This latest release from Telarc also features the re-release ofThe Young Person's Guide to the Orchestra by Britten. According to ClassicsToday.com, Mr. Järvi and the CSO present "the finest Young Person's Guide since Britten's own. It has similar energy and freshness, allied to similar continuity and flow."

Telarc's 16 discs with Paavo Järvi and the Cincinnati Symphony Orchestra have garnered critical acclaim, including their March 2009 release of Shostakovich: Symphony No. 10 and Tormis: Overture No. 2. The September 2008 release of an all-Mussorgsky CD won a GRAMMY® for Best Surround Sound. Other recordings include the January 2008 release of a celebrated all-Prokofiev CD, and the 2007 release of Rachmaninoff's Second Symphony which was lauded by The Philadelphia Inquirer as "one of the best available outings with this great symphony." In May 2006 the CSO's Bartók and Lutoslawski Concertos for Orchestra debuted on the Billboard classical chart at number 9, and The New York Times said of it, "Mr. Järvi's interpretations are everywhere persuasive, and the performances almost uniformly virtuosic. Telarc's typically expansive sound is especially gratifying...."
Telarc 80743
01 October 2010