Rachmaninoff: Symphony No. 2, Dances from Aleko, Scherzo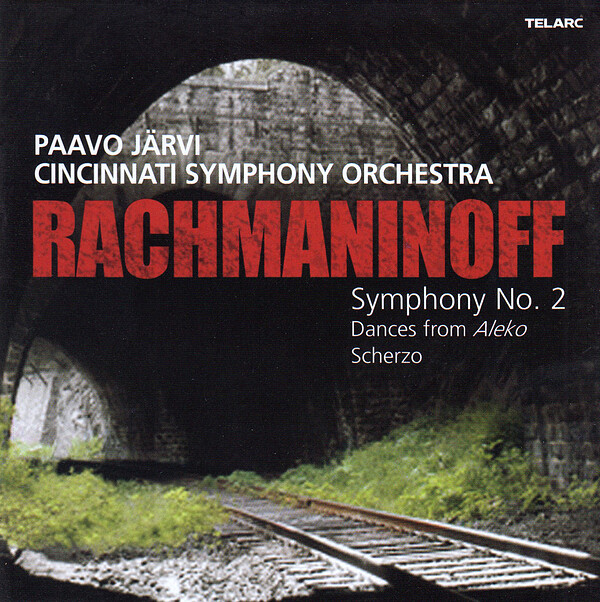 Symphony No. 2 in E Minor, Scherzo and Dances from Aleko mark 11th Telarc/Järvi recording

The 11th Cincinnati Symphony Orchestra Telarc recording with CSO Music Director Paavo Järvi is an all-Rachmaninoff disc, to be released January 24, 2007 in both CD and SACD formats. The repertoire includes Symphony No. 2 in E Minor, Opus 27, well known for its romantic slow-movement theme; Dances from Aleko; and a Scherzo dating from the composer's early years at the Moscow Conservatory.

"I love core repertoire, and Rachmaninoff's Symphony No. 2 is a sweeping example of the Russian symphonic tradition and perhaps the most popular of his orchestral works," said Järvi. "It's also exciting to become familiar with Rachmaninoff's lesser-known gems such as the two gypsy dances from Aleko and the charming little Scherzo from 1888."

After the unfortunate premiere of Rachmaninoff's First Symphony in 1895 (when the conductor, Alexander Glazunov, reportedly took the podium while "under the influence"), the Second Symphony reaffirmed Rachmaninoff as a symphonist in 1908. It is a large-scale work with signature Rachmaninoff touches such as brooding shifts from dark to lyric and a meltingly beautiful love theme.

The opera Aleko, based on a story by Pushkin about social clashes, dates from 1892 and was a graduation project assigned to Rachmaninoff and two fellow students at the Moscow Conservatory. Rachmaninoff wrote two gypsy dances – The Women's Dance and The Men's Dance – which earned the highest honors from his conservatory panel. The Women's Dance evokes a dusky, exotic mood while The Men's Dance is folk-like and rhythmic in character.

The 1888 Scherzo was Rachmaninoff's first orchestral effort. The composer "had just transferred to the Moscow Conservatory, and wrote it at the suggestion of Nicolay Zverev, his piano teacher, with whom he was living," writes Kyle Gann in the album liner notes. "The manuscript was marked 'Scherzo, Second Part' but no evidence survives of what larger work the student might have considered this a movement of. The premiere waited until November 2, 1945."

Telarc's ten discs with Paavo Järvi and the Cincinnati Symphony Orchestra have garnered critical acclaim, including their September 2006 release of music by Britten and Elgar (CD-80660/SACD-60660), which was called "a spectacular recording" in a review on ClassicsToday.com. In May 2006 the CSO's Bartók and Lutoslawski Concertos for Orchestra (CD-80618/SACD-60618) debuted on theBillboard classical chart at number 9, and The New York Times said of it, "Mr. Järvi's interpretations are everywhere persuasive, and the performances almost uniformly virtuosic. Telarc's typically expansive sound is especially gratifying…" The September 2005 release, Dvoøák: Symphony No. 9/Martinù: Symphony No. 2 (CD-80616/SACD-60616) was named Gramophone "Editor's Choice." Its reviewer wrote, "Paavo Järvi reveals his keen imagination and sharp concentration in both performances and under his guidance the Cincinnati SO is consistently excellent: the ensemble more than matches that of the rival versions." Music of Ravelalso was named Gramophone "Editor's Choice" and was awarded a Diapason d'or.
Telarc 80670
23 January 2007