Music Of Turina And Debussy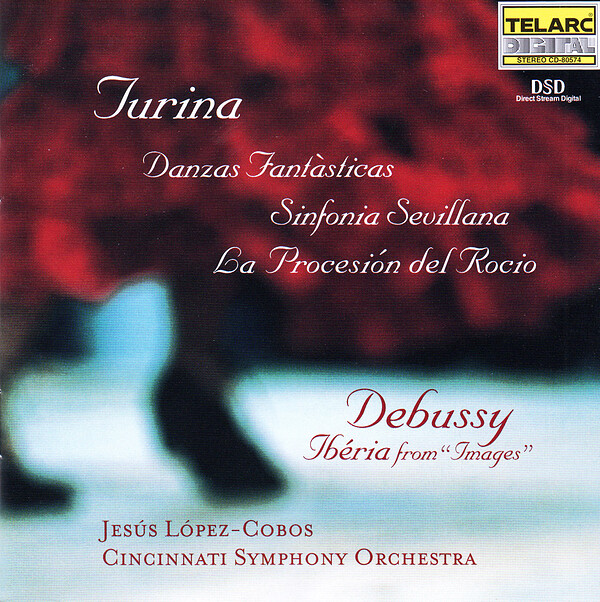 The second longest tenured Music Director in CSO history, Spanish conductor Jesus Lopez-Cobos personifies the commitment to excellence, musical knowledge and love of music that has led that ensemble into a new era of national and international acclaim. At the end of his tenure with the orchestra, the maestro will have conducted 564 concerts, engaged forty members of the orchestra, including nine of its principal players, conducted the CSO's first nationally telecast concert in the United States, and brought the CSO to the world with concert tours in 13 states and eight foreign countries, including 14 performances at New York's Carnegie Hall.
Under his direction, the CSO has released 26 recordings for Telarc, beginning with a 1987 album of music by another Spanish composer, Falla. The recording became legendary for its idiomatic interpretation and was named a "Record of the Year" by Stereo Review. Other highly acclaimed recordings have included works by Respighi, Bruckner, Dukas, Franck, Albeniz, Bizet, and Ravel. A recording of the Mahler Symphony No. 3 earned a Grammy nomination in 1998.
Critics have also praised the most recent recordings by Lopez-Cobos and the CSO, including the Symphony No. 2 and Vocalise by Rachmaninoff (described by Fanfare as "...flowing and discerningly balanced, with a sense of power held in reserve..."); and the first and last symphonies by Shostakovich, of which Amazon.com said: "Lopez-Cobos conducts sympathetic performances...[he] does excel in bringing out the dark undertow beneath the music's surface."
For his final recording as music director of the CSO, the maestro returns to the music of sunny Spain, leading evocative performances of Danzas Fantasticas, Op. 22,Sinfonia Sevillana, Op. 23, and La Procesion del Rocio, Op. 9 by Joaquin Turina. Also on the recording is the exoticIberia from "Images for Orchestra" by Claude Debussy.
In May 2001, Maestro Lopez-Cobos was awarded the highest honors in the fields of arts and letters by the governments of Spain and France. In Spain, the maestro received the Medalla de Oro de las Bellas Artes (Gold Medal of the Fine Arts) from King Juan Carlos and Queen Sophia. In France, the Ministry of Culture named the conductor an Officer of the Order of Arts and Letters. The distinction honors "illustrious people who, by their artistic or literary creations, have brought brilliance to French culture and that of the world."
Telarc 80574
27 November 2001