Berlioz: Symphonie Fantastique, Op. 14 / Love Scene From Romeo And Juliette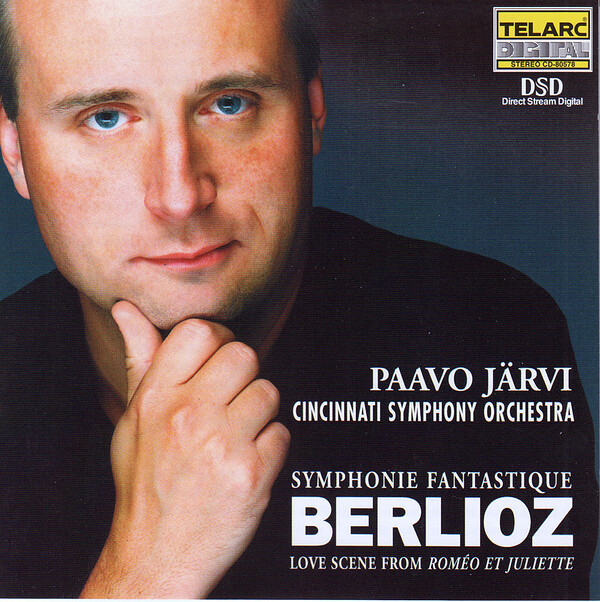 Paavo Järvi, one of the most sought after conductors of his generation, will become the twelfth music director of the Cincinnati Symphony Orchestra in September 2001.
The 37-year old Järvi has been called "one of the young Turks of conducting," and has earned praise from critics on both sides of the Atlantic. Recently, a London critic wrote that "one of the great conducting careers of the 21st century is now, unquestionably, underway."
This is J&#228:rvi's recording debut both with the Cincinnati Symphony and with Telarc. Berlioz's Symphonie fantastiqueand Love Scene from Romeo et Juliette comprised the first program that the maestro conducted in Cincinnati after being named the music director designate of the orchestra. In a concert review, the Cincinnati Enquirer called the performance "electrifying...Mr. Järvi's dynamics were wide-ranging; every accent and crescendo was etched in bold relief. He propelled the music with incisive rhythmic control..."
Symphonie fantastique embodies the spirit of Romanticism in its huge emotional landscape, ranging from obsessive passion to frenzied demonic nightmares. In February 1830, Berlioz wrote to his sister that he was "about to commence my grand symphony...in which the development of my infernal passion [for actress Harriet Smithson] will be depicted." The young composer had pursued Harriet single-mindedly after seeing her perform in Shakepeare's Hamletand Romeo and Juliet, but she had ignored his passionate overtures and rebuffed him. It was in a spirit of bitter, unrequited love that Symphonie fantastique was created. Berlioz provided an explicit program to accompany the work, which details the progression of his doomed romance from passion to despair.
The Love Scene from Romeo et Juliette, a musical representation of the play's famous balcony scene, was claimed by Berlioz to be his favorite among his own compositions. It is taken from another large work, a "dramatic symphony" for chorus, soloists, and orchestra. The work was composed during a happier time for Berlioz—he had been given a handsome sum of money by the famed Niccolo Paganini, a great admirer of his compositions—and was able to pay off his debts. Berlioz conducted the successful premiere in 1839 in Paris, only distressed by the fact that Paganini was unable to attend and never heard the work he had helped to promote.
Born in Tallin, Estonia, Paavo Järvi moved to the United States at age 17, and studied conducting at the Curtis Institute of Music, as well as at the Los Angeles Philharmonic Institute with Leonard Bernstein.
Mr. Järvi has held the post of Principal Guest Conductor with both the Royal Stockholm Philharmonic and the City of Birmingham Symphony Orchestra. He has had an impressive list of conducting engagements with orchestras around the world, including the New York Philharmonic, Berlin Philharmonic, London Philharmonic, San Francisco Symphony, Philadelphia Orchestra, and many others.
Upcoming recording projects for Paavo Järvi and the Cincinnati Symphony on Telarc will include the music of Tubin and Stravinsky.
Telarc 80578
28 August 2001