Stravinsky: Petrouchka, The Firebird Suite, Scherzo a la Russe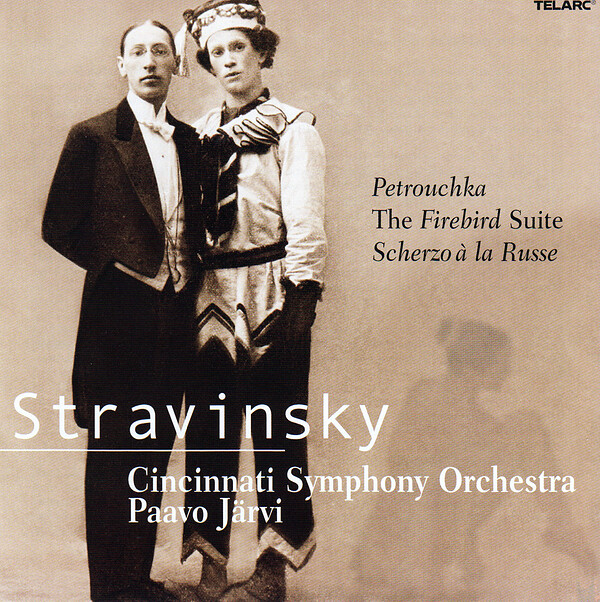 Following up on their critically acclaimed recording of Sibelius' Symphony No. 2 in D Major and Tubin's Symphony No. 5 in B Minor, Paavo Jarvi and the Cincinnati Symphony Orchestra are back with three of Igor Stravinsky's most provocative works, The Firebird Suite, Petrouchka andScherzo a la Russe.
Facing an intriguing compositional challenge in the Firebird, Stravinsky followed the example of Rimsky-Korsakov's opera The Golden Cockerel and represented the natural characters and scenes in a diatonic style, while the supernatural was interpreted with chromatic music. The orchestration in Firebird is spectacular. One instance is the famous passage of natural harmonic string glissandos at the end of the introduction. Also, the vivid drive of the "Infernal Dance" foreshadows the brutally primitivistic world of The Rite of Spring.
Petrouchka is a story of a puppet who is made of straw and sawdust but with the capacity to love. He is to the Russians what Pierrot is to the French, Punch to the English and Pinocchio to the Italians—a not-quite-real being whose tragedy is his very real passion, which make him yearn for an unattainable human life. At one time, Petrouchka was once thought fearfully dissonant. The most famous dissonance is the "Petrouchka chord," a combination of C major and F-sharp major triads first heard in the clarinets just after the opening of the second scene. This strident sonority, which returns periodically throughout the remainder of the ballet, represents Pertrouchka's insults. Despite this and other dissonances, and despite jagged rhythms and irregular meters, Petrouchka has remained one of the most popular of twentieth-century compositions.
Stravinksy moved from Europe to America in 1939 and settled in Los Angeles, where he came into contact with the Hollywood entertainment industry. He had a genuine affection for the Hollywood style but unfortunately none of his music ended up in any movies. The best example of this style is Scherzo a la Russe, which was supposed to be part of the soundtrack for the movie The North Star, which was made in response to President Roosevelt's appeal to Hollywood for some films that paid tribute to the Russian troops fighting the Nazis. The work's Russian influence is quite palpable. Particularly significant in this regard is the combination of harp and piano (in close canon) in the works' first trio. This sonority invokes that of the gusli, an instrument used by Russian traveling folk singers and clowns.
One of the most sought-after conductors of his generation, Paavo Jarvi became the twelfth music director of the Cincinnati Symphony Orchestra in September 2001. A forty-year-old American born in Estonia, Maestro Jarvi has earned praise from critics around the world. A pupil of Leonard Bernstein, "he has much of the latter's charisma and a similar ability to galvanize an orchestra into playing with furious intensity and bravura panache," said Tim Ashley in The Guardian. He will lead the Cincinnati Symphony Orchestra in twelve weekends of concerts and five tour performances in the U.S. in the 2002-2003 season, his second as music director. His first recording with Telarc, in August 2001, was Berlioz's Symphonie fantastique and the Love Scene from Berlioz's Romeo et Juliette. "The brilliance of Berlioz' orchestration is brought out in finely detailed sound with textures clarified," wrote Edward Greenfield in Gramophone. His second Telarc recording of Sibelius' Symphony No. 2and Tubin's Symphony No. 5 was also critically acclaimed, Stephen Johnson of BBC Music Magazine said, "All credit to Paavo Jarvi—these are gripping, deeply felt performances."
Telarc 80587
25 March 2003