Sibelius: Symphony No. 2 In D Major / Tubin: Symphony No. 5 In B Minor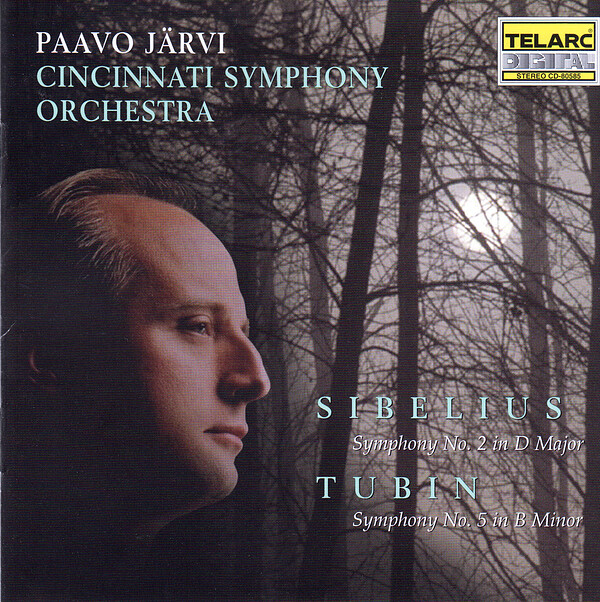 Paavo Jarvi, who became the twelfth Music Director of the Cincinnati Symphony Orchestra in September 2001, has earned praise from the critics for his leadership on the podium in his inaugural season. "Jarvi...created excitement at Music Hall unlike anything seen here since the Thomas Schippers era (1970-77)," said the Cincinnati Enquirer, while the Cincinnati Post proclaimed "Jarvi brought a new splendor to the orchestra and a musical gift which promises immeasurable riches for the city."
Maestro Jarvi's first recording for Telarc with the CSO, of the Berlioz Symphonie fantastique and the "Love Scene" fromRoméo et Juliette, was released in August 2001 to critical acclaim on both sides of the Atlantic. "To call it an auspicious debut would be an understatement," raved Schwann Inside. "It is one of the most exciting recordings in recent memory."
In his first season as Music Director, Jarvi brought a wealth of new repertoire to the CSO, including Nordic music and works from his native Estonia. For this new recording, he leads the orchestra in Symphony No. 5 by Estonian composer Eduard Tubin and Symphony No. 2 by Jean Sibelius. The Cincinnati Enquirer described the concert performance as "majestic, beautifully detailed...utterly gripping from beginning to end."
Tubin (1905-1982) is considered the leading Estonian composer of the mid-20th century. His music, like that of Sibelius, is deeply rooted in his native folk music. After Estonia became independent from Russia in 1918, composers sought a national style, indebted to their rich folk tradition. Estonian composers thrived until the end of World War II, when the country became part of the Soviet Union.
Tubin emigrated to Sweden the day before Soviet tanks rolled into Tallinn, Estonia's capital city. Two years after arriving in Stockholm, he produced what many critics feel is his most nationalistic and dramatic work, the Fifth Symphony.
Like Tubin, Jean Sibelius was deeply concerned with his country's cultural identity. His Second Symphony was written during Russia's occupation of his native Finland in 1901. Sixteen years later, Finland won its independence. Along with Finlandia, the Second Symphony is among Sibelius's best-known works.
Born in Tallinn, Estonia, Paavo Jarvi moved to the United States at age 17 to study at the Curtis Institute of Music under Otto-Werner Mueller and Max Rudolf, as well as at the Los Angeles Philharmonic Institute with Leonard Bernstein. He has held the post of Principal Guest Conductor with both the Royal Stockholm Philharmonic and the City of Birmingham (England) Symphony Orchestra, and has had an impressive list of conducting engagements with orchestras around the world.
Maestro Jarvi has championed the works of many Estonian composers including Arvo Part, Erkki-Sven Tüür, Lepo Sumera, Udo Kasemets and Eduard Tubin. Future recordings on Telarc with the Cincinnati Symphony Orchestra will include an all-Stravinsky disc, featuringPetrouchka and L'Oiseau de feu ("The Firebird") Suite, scheduled to be released in March 2003.
Telarc 80585
27 August 2002