Dvorak: Symphony No. 9 "From The New World" / Martinu: Symphony No. 2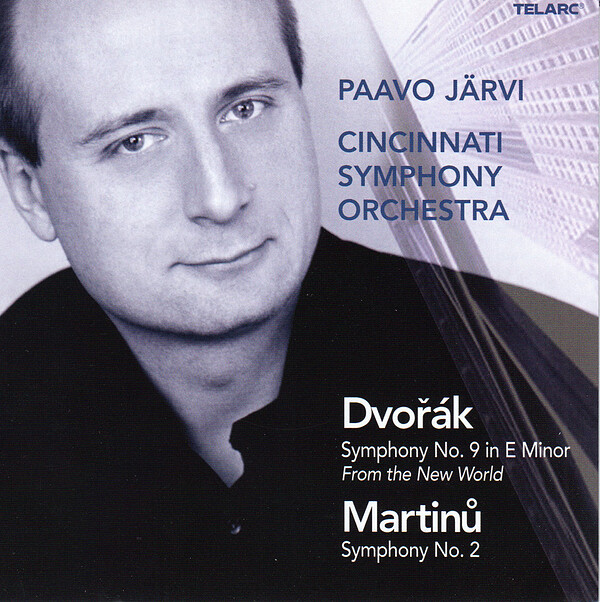 Paavo Järvi conducts the Cincinnati Symphony in Dvorak's Ninth Symphony "From the New World" and Martinu's Second Symphony.
The two symphonies by Czech composers have much in common, according to the liner notes by Kyle Gann. Both were written in America, both were influenced by American music, and both were written when the composer of each was 52 years old.
Antonin Dvorak (1841-1904) stands with Smetana at the beginning of the Czech symphonic tradition. Bohuslav Martinu (1890-1959) stands at its end. Dvorak at 52 was considered one of Europe's greatest living composers, perhaps second only to Brahms. Martinu, like Sibelius, was a conservative who clung to tonality and melody, but he was a distinctive conservative with a personal style, not merely an extender of Romantic idioms. A half century later, Martinu was freer to draw on his folk heritage, though he rarely did so directly, participating instead in neoclassicism and using jazz influences. Beneath the surface, however, both works give us a view of the old country as seen from a distant new world.
For Dvorak, success came relatively late, but suddenly. His late style and reputation are so indebted to Brahms that it's easy to forget that he started out in the opposite camp. His break came in 1877, when Brahms, acting on the award panel of the Austrian State Stipendium, was wowed by the Moravian Duets Dvorak submitted. Brahms enthusiastically recommended the 36-year-old composer to his Berlin publisher Fritz Simrock, who commissioned Dvorak's Slavonic Dances. Thanks to a positive review in the Berlin National-Zeitung in 1878, Dvorak became a well-known name overnight.
Dvorak was lured to the National Conservatory of Music in New York by a generous salary, assurances that his music was loved in America, and promises that he could conduct several of his own works each season. He accepted a two-year appointment and agreed with National Conservatory founder Jeanette Thurber that American composers needed help finding their own musical identity, and advocated the absorption of thematic elements from the American Indian and Negro traditions. To this end, he studied Negro spirituals and plantation songs and perused American Indian music in transcription.
This pursuit resulted in several works, most notably his Symphony No. 9, with the subtitle "From the New World." One of his Conservatory students, William Fisher, wrote a choral arrangement of the theme from the second movement of the Ninth Symphony, calling it "Goin' Home." This became so widely known that the song is to this day often mistaken for a Negro spiritual that Dvorák had quoted. The work premiered on December 16, 1893, and has since become one of his best-loved.
Far less well known, though perhaps more original, Martinu nurtured his creative sensibilities in the heady modernist milieu of 1920s Paris, though he rejected much of what he was exposed to from his own luminous and ethereal style. A talented violinist at a young age, Martinu's community raised funds to send him to Prague Conservatory, but he was expelled for "incorrigible negligence." He played and toured in the Czech Philharmonic for 10 years, until he was eventually seduced away by the allure of Paris. Both invigorated and repelled by the modernist tendencies of the 1920s, he used jazz rhythms in works like Le jazz and theJazz Suite—a tendency that is still evident as late as the Second Symphony. When the Nazis invaded, Martinu and his wife fled, eventually making their way through Lisbon to New York, arriving in March 1941.
In America, Martinu suddenly became a symphonist. Before 1942, he had never written a symphony, nor in fact any orchestral work for 13 years. But in a burst of creativity, five symphonies appeared between 1942 and 1946 (Symphony No. 6, "Fantaisies symphoniques," emerged several years later, in 1953). Though based in New York, he spent much of his time in various rural areas. His 2nd Symphony, commissioned by a group of Czech refugees living in Cleveland, was written in rural Connecticut in just under a month and performed in October 1942, by The Cleveland Orchestra.
This recording is Paavo Jarvi's eighth disc with Telarc and the Cincinnati Symphony Orchestra, and the latest chapter in an outstanding legacy of recordings. His previous seven Telarc releases have garnered lavish critical praise. Music of Ravel was awarded a Diapason d'or and also was named an "Editor's Choice" in Gramophone. For his performance ofRomeo and Juliet: Complete Suites from the Ballet by Prokofiev, American Record Guide wrote, "If there's any doubt that the Cincinnati Symphony is one of the world's greatest ensembles, this release will quickly silence it."
Telarc 80616
27 September 2005