Stravinsky: The Rite Of Spring/Nielsen: Symphony No. 5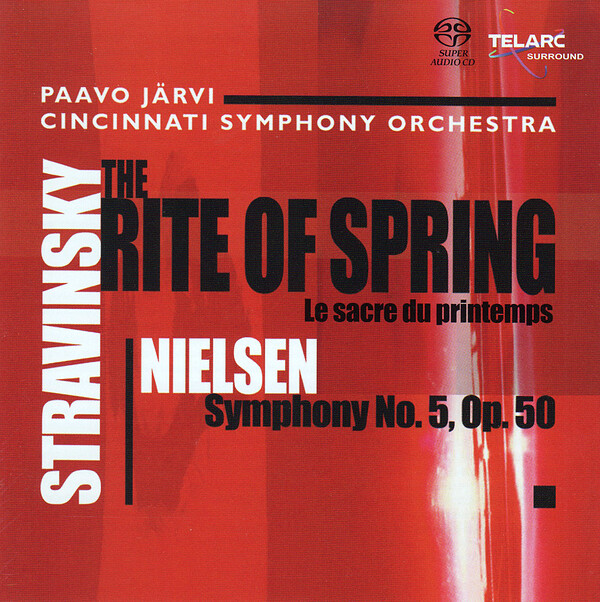 Paavo Järvi combines two very different works on his latest Telarc recording and creates a fascinating synergy that is a great example of this conductor's innovative programming. By bringing together music of two different composers, he leaves the listener to discover the underlying similarities of the two compositions.
Nielsen's Fifth Symphony, written in 1922, explores the confrontation of two moods, two personalities: the consonant and harmonic versus the dissonant and intense. These opposites have been characterized as the constructive and the destructive. Carl Nielsen's music spans the boundary between Romanticism and Modernism.
His Fifth Symphony is a direct response to WWI's effects on the Danish community and an attempt to show the inherent conflict between man's better instincts and the inclination towards evil. Written in two movements, Nielsen's Fifth is deceptive as it is divided into four distinct sections. The opening of the first movement is dark and quiet, and second movement builds on the darkness and eventually explodes into the light – an expression of Nielsen's more optimistic side.
Unlike Nielsen, Stravinsky was a cosmopolitan Russian about to turn Frenchman and eventually American. The Rite of Spring is a transcending work, one that is reflective of a specific time. Like many revolutionary works, the Rite takes its inspiration from extra-musical sources. During the spring of 1910, Stravinsky had a vision: "I saw in my imagination a solemn pagan rite: wise elders, seated in a circle, watching a young girl dance herself to death. They were sacrificing her to propitiate the god of spring." The Rite is full of simple, folk-like melodies, often with not more than four or five different notes. These tunes are usually accompanied by biting dissonances or shimmering textures.
"To put together these two composers, not usually associated with one another, is to create an interesting symbiosis," says Järvi in the liner notes. "They are nearly contemporaries, yet they each worked without influence from the other. Their visions of aggression in music were not dissimilar, but their means were different."
Paavo Järvi is one of the most celebrated conductors on the current classical scene. Telarc's previous recordings with the Cincinnati Symphony Orchestra under the leadership of Paavo Järvi have garnered high acclaim. Gramophonecalled their 2003 Stravinsky recording (CD-80587) "outstanding in every way," with a Petrouchka performance that is "arresting." American Record Guide described the CSO's recording of Prokofiev's Romeo & Juliet suites (CD-80597) as a work of "boundless enthusiasm and youthful exuberance."
Telarc 80615
28 September 2004