Ravel: Suite No. 2 From Daphnis And Chloe, La Valse, Mother Goose, Bolero, Pavane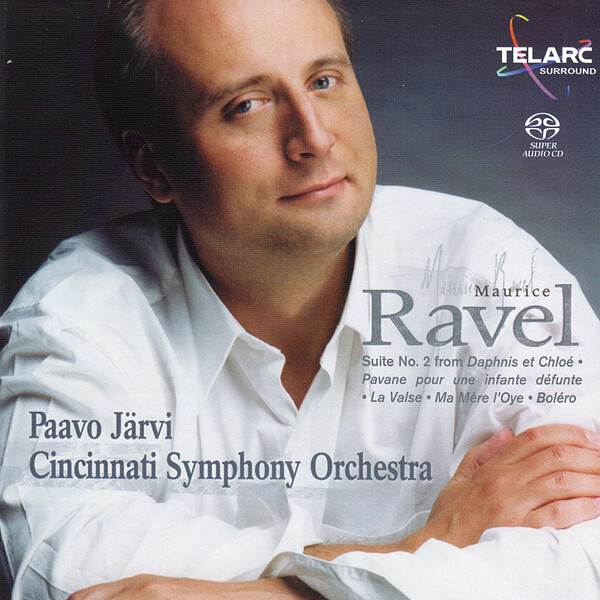 During his student days, Ravel often attended soirées at the homes of Parisian music patrons. In 1899, a patron commissioned him to a modest work for piano—it was only salon music and Ravel thought nothing of the posterity of the piece, Pavane pour une infante défunte. In 1902, Ricardo Viñes performed the work publicly to great acclaim. Ravel was surprised and disturbed by the acceptance of this piece. The "pavane" alluded to the solemn Renaissance dance form.
Ravel loved the techniques of composition for their own sake, and he embraced them in the spirit of invention more than of expression. Thus he accepted specific limitations for each piece—boundaries within which, or against which, he had to make his music work. These challenges are found inBoléro, in which two melodies are repeated throughout without variation, and in the four-hand version of Mother Goose, which had to be playable by children.
The Five Nursery Songs from Mother Goose was premiered by two young ladies (six and seven years of age) in 1910. Ravel orchestrated the suite in 1910 and then added several new numbers to create a ballet in 1911. At the same time, he was working on a commission to create a colorful work for the famed dance troupe Ballets Russes. Ravel explained his ballet Daphnis et Chloé: "to compose a large fresco painting, less in keeping with antiquity than with the Greece of my dreams, which was more closely related to a Greece such as French artists had portrayed at the end of the eighteenth century."
Ravel was emotionally and physically deteriorating during WWI and composing had been impossible for him for several years. The stimulus to work came in the form of a new commission by Sergei Diaghilev, who asked for a short ballet to share the program with Stravinsky's Pulcinella. Ravel complied by writing La Valse, a bittersweet reminiscence of a world that had been destroyed by the War. It contains every element of a J. Strauss waltz except for gaiety. Instead, there is a sinister atmosphere that becomes frenzied by the end.
Paavo Järvi became the twelfth Music Director of the Cincinnati Symphony Orchestra in September 2001. His dynamic leadership on the podium has captured international attention. His first four recordings with the CSO on Telarc have garnered critical acclaim. Gramophoneheaped high praise on Järvi's most-recent release of Prokofiev's Romeo and Juliet: "Paavo is able to convey the sweet, fragile innocence of Romeo and Juliet's love as well as its sweeping passion." Gramophone called his all-Stravinsky CD "outstanding in every way" and the Petrouchka performance "arresting." Järvi and the CSO's recording of Sibelius' Symphony No. 2 in D Major and Estonian composer Eduard Tubin's Symphony No. 5 in B minor earned high praise from American Record Guide: "The playing all through the performance is stunning...Heads up, folks: Telarc has a winner here." His first disc with the CSO includes Berlioz's Symphonie fantastique and the "Love Scene" from his Roméo et Juliette. "The brilliance of Berlioz's orchestration is brought out in finely detailed sound with textures clarified," said Gramophone.
Telarc 80601
24 February 2004